Reinvent Your Business in Troubled Times
Want to know how to navigate your business in these unfamiliar times? Join this webinar to reinvent and pivot your business.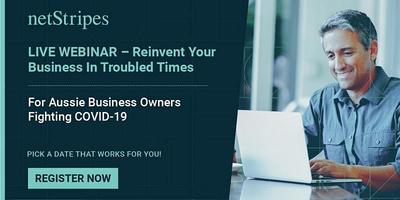 As a business owner, it can be incredibly easy to get caught up in all the chaos and disruption surrounding Covid-19, but with the social distancing that is taking place, businesses must adapt to meet the changing needs of their clients.
This is exactly why you need to focus on increasing your digital knowledge and discovering hidden opportunities for your brand right now. With this in mind, Netstripes have converted their popular Digital & Innovation Seminars into LIVE webinars to support Small and Medium businesses in their time of need.
Presented by Netstripes Founder Dinesh De Silva, these webinars cover a range of insightful topics such as managing cash flow and innovative solutions for service delivery.
Other topics include:
Success stories and lessons of small business innovation
The two principles of digital marketing for business results
Building online success - The process every business must follow
Learn how to thrive during Covid-19 by making your website the face of your business
Social media marketing in 2020 – tips and tricks
6 digital traps every business must avoid

The webinar is fully-funded by the NSW Government of Industry as an initiative to support business owners during this challenging time. This means it involves zero cost, so get your teams on board and spread the word.

Dates - Thursday, April 30 | Friday, May 1 | Monday, May 11 | Friday, May 15
All you have to do is click on the link, select a date that works for you best and register your spot.
Limited spots available so register today!
For more details: https://bit.ly/39y2PzZ