Digital Marketing in a Post COVID Era
Is your business digital ready to thrive in the post-COVID world? Join Netstripes' FREE webinar to transition to the digital space.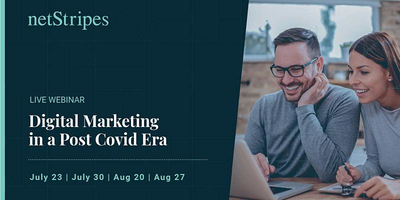 One of the many things that the COVID crisis has taught us is that we can no longer operate the way we used to. We need to change the way we think and the way we run our businesses. Having a digital presence is no longer an option but a necessity.
If you're a small or medium business owner that is struggling to make this transition, then we are here to guide you through this.
Netstripes has developed a webinar on 'Digital Marketing in a Post-COVID Era' to empower you with the right knowledge and insights to help you align your business to meet customer needs in this new environment.
The 90-minute webinar is designed and conducted by Netstripes Founder and leading authority on Small Business Innovation and Digital Readiness, Dinesh De Silva.
During this FREE webinar you will learn:
How to understand crucial changes in consumer behaviour
Why small and medium businesses are not achieving desired results
Digital marketing – the principles of success
A defined process for success online
Key components of digital strategy
An insight into creating trust and credibility online
Key elements of a business website to create trust and credibility
How to achieve your business goals in your 1st year of business
Lessons and success stories of small and medium business
Continuous skills and knowledge development
The webinars are held on multiple dates to ensure that as many business owners and their teams can take advantage of this opportunity to acquire knowledge and up-skill.
Register now and spread the word!