Renewable Energy Founder Dinner
The Renewable Energy Founder Dinner, in partnership with the Australian Renewable Energy Agency (ARENA), will shine a spotlight on Australia's rapidly-growing renewable energy industry, highlight local insights and global trends, and showcase some of the country's best emerging startups in the sector.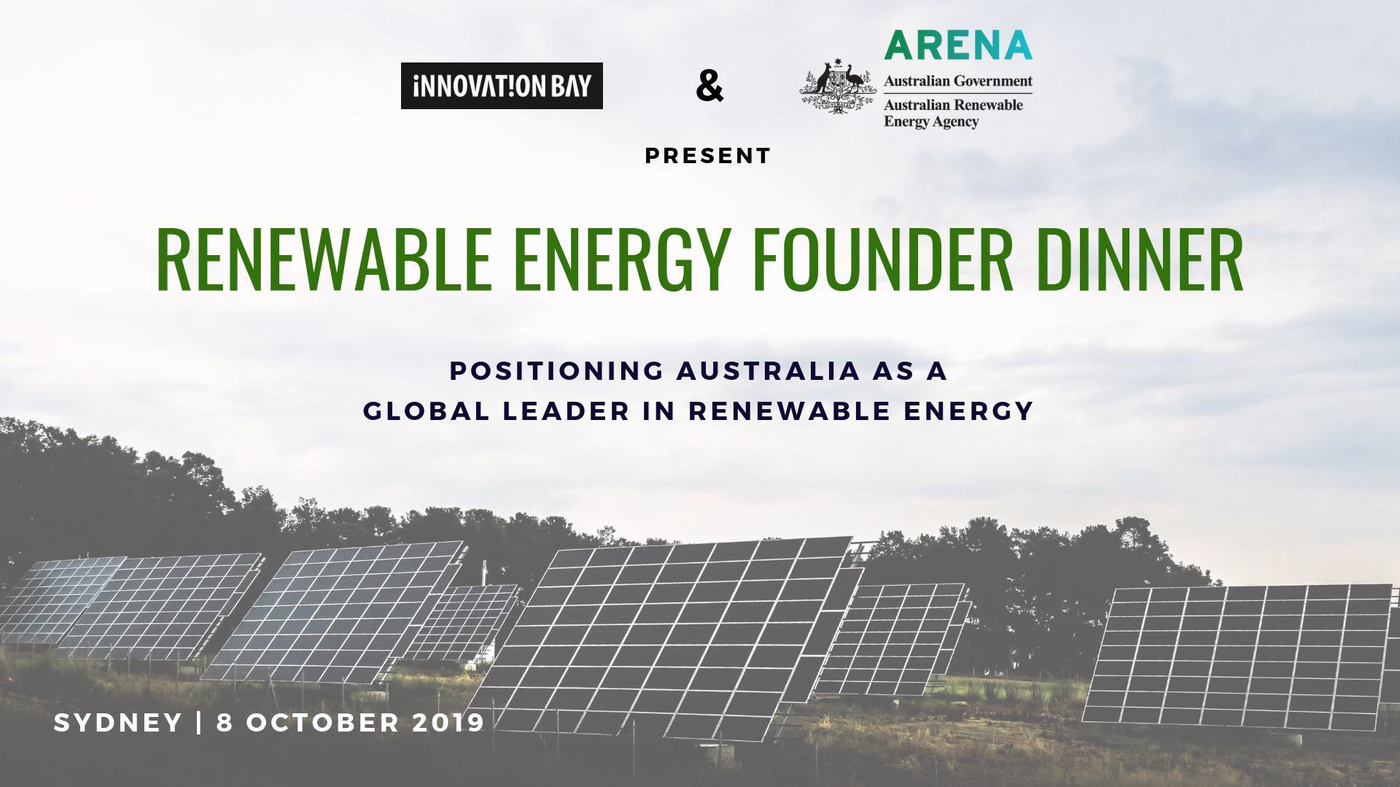 Innovation Bay passionately believes in supporting founders who are building businesses that will not only shape the future of our economy, but the future of our environment. The majority of the world's energy is still produced from coal, oil, and natural gas; however, Australia expects to see a rapid increase in renewable energy technologies with over 80% of total electricity generation estimated to be delivered by renewables by 2040. We're even seeing commercial businesses take a proactive stance in transitioning to renewable energy, such as Atlassian committing to 100% renewable electricity by 2025.
Innovation Bay's aim for this Founder Dinner, with ARENA's support, is to help provide funding, connections and opportunities for local startups that are building unique solutions in the renewable energy space. They're looking for startups that are making a real impact in creating more affordable, accessible and reliable renewable energy.
If this sounds like you, this is your opportunity to present to an audience of 'difference makers' — sector-interested investors and corporates that can advise, make introductions, and potentially provide funding to help you grow your venture.
Selected founders will be invited to present to a curated group of investors, and will have five minutes to pitch followed by three minutes of question and answers. You will all be treated to a three-course dinner where you'll have the chance to meet, mingle and spark conversations with investors in the room. Throughout the night you'll move around the room to chat with different people, and after the event, Innovation Bay can assist with any further introductions you might find valuable.
To date, Innovation Bay has helped startups raise over $40 million in funding, get expert advice and make valuable connections to supercharge their growth. Innovation Bay does not take a clip, they do not charge entrepreneurs, they simply promote, support and connect.
ARENA provides grant funding for innovative projects to accelerate Australia's shift to renewable energy. Since its inception in 2012, ARENA has invested over $1.3 billion in 469 projects leveraging over $3.8 billion in private investment across a range of renewable energy technologies.
Don't miss out on this great opportunity, applications to attend close on 25 August.