Upskill & Survive - 2-Day Virtual Bootcamp
This program is designed to develop skills and behaviours to adapt to the rapidly changing environment and be prepared for the future.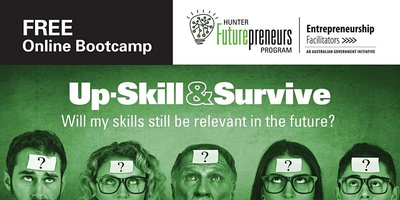 Discover your vision, goal and purpose!
Hunter Futurepreneurs has proudly partnered with Utopia X Founder and Co-CEO of SingularityU Australia's, Christina Gerakiteys, to bring you this highly interactive and outcome driven 2-day virtual Boot-Camp Program like no other!
This program has been designed to assist individuals in developing skills and behaviours to be adaptive to the rapidly changing environment and to be prepared for what the future has to offer.
Each day will consist of four x 90 minute sessions with each session covering an essential topic that is crucial to the future of your success.
Wednesday 27th May - Day 1: Sessions 1-4 - 9AM-3PM
Day 1 will cover the following topics:
Session 1: Mindset Matters
Session 2: Moonshot Thinking to Design Thinking
Session 3: Leadership X-Change
Session 4: Exponential Thinking with Exponential Technologies Part 1
Wednesday 3rd June - Day 2: Session 5-8 - 9AM-3PM
Day 2 will cover the following topics:
Session 5: Exponential Thinking with Exponential Technologies Part 2
Session 6: Don't Ask Don't Get
Session 7: Master Minds and Action Plans
Session 8: Action Plans and Connectivity
Virtual Rooms will be set up in Zoom so the program will run as a live hands-on session where attendees will be broken up into teams to encourage creative, innovative and design thinking where you will go on to discover you vision, goals and purpose along with learning new ways of working and much more!
The key outcomes for this program include the following:
Discover Vision, Goals and Purpose
New Ways of Working
Connections and Collaborations
Well-being for Growth
Branding in the New World Order
Creativity and Innovation
Ideation
Design Thinking Principles
Planning and Execution
Zoom Webinar Links for both days will be provided once you have registered your ticket/s.
About the Presenter and Host
Presenter: Christina Gerakiteys, Co-Founder of UtopiaX and Co-CEO of SingularityU Australia -
Christina Gerakiteys is Co-CEO of SingularityU Australia and is a catalyst for change. She has a talent for alchemizing the impossible into the possible. Christina knows human potential is unlimited.
Christina's mission is to inspire and empower leaders to find solutions to humanity's grandest challenges. Her work is focused at the intersection of the Values of Humanity with the Value of Technology.
Christina is a fully accredited Singularity University Faculty Expert. She is the host of the SingularityU Australia Summit podcast, Inspire for 5 and is a regular host on the SingularityU Australia webinar series A Future By Design. She regularly contributes media articles and appears on radio and podcasts.
Her engaging style, depth of knowledge and authentic desire to impact the planet for good, have made Christina an in-demand, international, key-note speaker. Christina is a sought after corporate and university program designer and facilitator - her curriculums driven by design thinking, engagement, purpose and play. She lectures in Business, Innovation and Entrepreneurship where she advocates Moonshot Thinking – disrupting current mindsets to encourage exploration into what is possible.
Host: Cheryl Royle, Hunter Region Entrepreneurship Facilitator and Founder of Hunter Futurepreneurs Program
Your very own local Entrepreneurship Facilitator, Cheryl Royle, who is a Hunter based small business coach and consultant will be hosting the session. She has educated, supported and coached 1000's of business owners, freelancers, consultants, artists and entrepreneurs across Australia. Cheryl offers practical start-up and business growth advice and is committed to guiding and supporting entrepreneurs, startups and small business owners in creating the business of their dreams.
Who is this for?
This program is for individuals who are unemployed (recently or long-term), Youth looking to be self-employed, NDIS Participants, Entrepreneurs and SMEs, individuals who are looking to take that next step in life or are looking to broaden their skill-set to be prepared for anything in the future, and anyone thinking about changing their career path and need some direction and guidance.
If you, or someone you know, might be interested in this 2-day virtual boot-camp, make sure to register your ticket/s before they run out and share this event!