Reset and Refocus Your Business
A virtual hands-on business growth workshop webinar to help reset and refocus with a clear action plan for your business.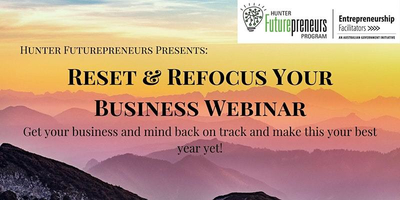 Gotten a little off track? Join the club! The path of business building has many ebbs and flows. If your business just isn't where you thought it would be by this point in the year, I highly suggest you reset and refocus with me!
In this virtual workshop webinar I will breakdown the five different core areas of resetting and refocusing and why they are so important. You will learn about each and why they all affect your overall business goals.
Topics that will be covered include:
Define your purpose, values and mission and align it with your business identity
Define your ideal clients, know where and how to find them
Home and Business - Discover the areas of your personal life which cause you challenges in your business life
Your Launch - What are you really offering/selling to your customers
Develop a practical 90 day marketing plan
Who Is Presenting?
Entrepreneurship Facilitator, Cheryl Royle, business coach and consultant will be delivering the session. She has educated, supported and coached 1000's of business owners, freelancers, consultants, artists and entrepreneurs across Australia. Cheryl offers practical start-up and business growth advice and is committed to guiding and supporting entrepreneurs, startups and small business owners in creating the business of their dreams.
Who Is This Program For?
Start-ups, entrepreneurs, contractors, freelancers, micro/small/medium business owners, people working in micro/small/medium businesses and anyone who is looking to align their business goals with their 2020 Mid-Year Resolutions.
FAQs
This session is for small groups only as it is a hands-on virtual workshop webinar, so get in early. Expect to work on your business. This is not about giving you information this is a session where you walk out with a plan of action so you are prepared to tackle 2020 and hit those targets you may have missed in 2019.
Have your devices/ paper and pens to make the most out of this session!