Resilient Small Business for the Future
A full day of practical presentations and workshops to help drive your small business forward.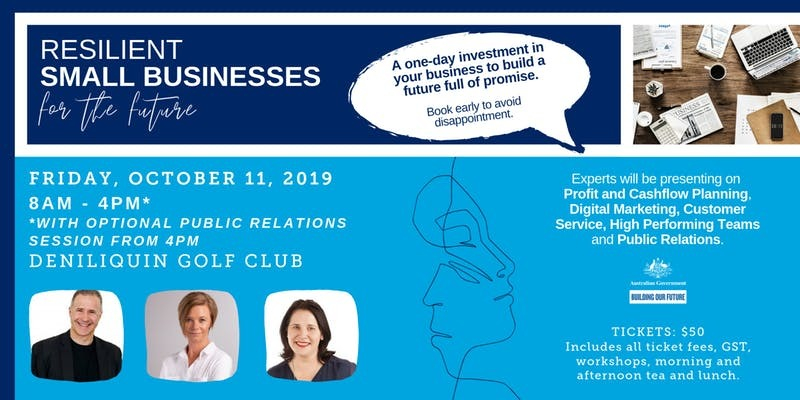 Workshops and presentations will focus on resilience, profitability, digital marketing, customer service, high performing teams, and public relations.
Speakers
Michael Licenblat: Becoming Resilient to Pressure in Today's Business World - Michael Licenblat is a resilience expert who helps people to achieve more in high-pressure environments by bouncing back from pressures and setbacks. Over 20 years ago, Michael became one of the pioneers in building a successful natural therapies business through overcoming market rejection, refusals and knockbacks. In his presentation, Michael will walk you through the 5 levels of personal resilience so that you can achieve more in high-pressure environments.
Jen Waterson: Confident Profit & Cashflow Planning - Jen Waterson of Time, Team, Money will present a workshop on the 6 essential elements required to positively impact your profits and your cashflow today. You'll walk away with ideas and tools that you can implement immediately and start building financial resilience into your business.
Cate Schreck: The Art of Customer Service - Cate is the Founder and Managing Director of Lightbulb Training Solutions (LTS) and is known for designing and delivering workplace training programs that educate and motivate staff to work together in harmony and provide consistently excellent customer service.
Jenn Donovan: Email & Digital Marketing Workshop - Jenn Donovan is a marketing strategist and social media extraordinaire. Jenn's proven business strategies took her business from a $9 profit to over 6 figures with no previous retail experience, but a free-thinking approach to building much more than a retail store, but a community of passionate customers. Her presentations are filled with stories, messages, and strategies developed from her years in small business in both regional and metropolitan centres.
Mark Bloodworth: High Performing Teams - With 30 years' experience, Mark takes a three-pronged approach that holistically reshapes businesses by finding and developing leaders hiding within the organisational structure and putting them in a position to shine. Mark is keen to help people and their teams perform at their best to meet their business challenges head-on!
Jules Brook: Handling your own PR - Ever wondered whether you should do PR for your business? Perhaps you have dreamed of getting publicity for your business but you have no idea how it is done. Whatever the reason, you won't want to miss this talk about how you can handle your own PR and get a lifetime of free publicity for your business by the founder of Handle Your Own PR, Jules Brooke.