Rio Tinto Pioneer Portal Webinar
http://www.austmine.com.au/Events/category/webinars/webinar-rio-tinto-pioneer-portal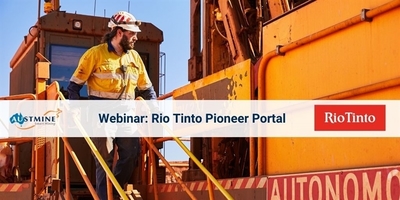 Rio Tinto's Pioneer Portal is an online platform allowing them to partner with individuals and businesses across the world for innovative ideas, technologies and solutions.
They are seeking out original ideas, from the unproven to those ready to deploy. Your idea should address a collaboration opportunity relevant to their business, as listed on the Pioneer Portal. In turn, they may support you with funding, laboratory and research space, professional coaching, access to operations, or a product purchase.
This webinar will feature Neil Freeman, Rio Tinto's Manager Innovation – Technical Strategy, Growth and Innovation. It will:
Provide a comprehensive overview of the Pioneer Portal initiative
Detail the process for businesses and individuals to participate
Discuss the current challenges open for submissions
Host a Q&A session with Rio Tinto's Pioneer Portal team
There will be three challenges discussed:
Robotic Tank Cleaning
Protective anode coating for aluminium smelting
Gamba Grass Eradication
Do you have an idea or technology that could transform the mining and metals industry? Then register for the webinar now!