NSW Priority Market Webinars - India
These briefings will focus on the impacts on global trade, supply-chains (export and import) and international education resulting from the current global situation.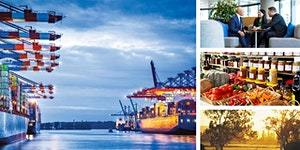 Learn about how businesses are responding to this crisis and adapting to continue operations and prepare for when conditions improve. We will also explore trends for future cooperation between NSW and Republic of Korea, India, UAE and Middle East.
Due to the recent restrictions on mass gatherings, we are unable to run face to face seminars for the foreseeable future. Whilst the global pandemic is unprecedented it is important to be reminded that the fundamentals of the key markets in the longer term.
Why Republic of Korea (ROK)?
The ROK is Australia's fourth-largest overall trading partner. Two-way goods and services trade was worth around $52.3 billion in 2017-18, representing 6.6 per cent of all of Australia's international trade. The ROK was Australia's third-largest market for goods and services exports combined in 2017-18, totalling $23.7 billion. As well as coal, iron ore, LNG and aluminium, the ROK remains an important market for Australian beef, sugar and wheat. Our economic relationship is supported by the Korea Australia Free Trade Agreement (KAFTA), which entered into force on 12 December 2014. We have a complementary trade relationship, with Australia exporting minerals, energy and travel and education services to the ROK, and importing passenger vehicles, petroleum, and electronic goods and parts.
Why India?
India was Australia's eighth-largest trading partner and fifth-largest export market in 2018-19, driven by coal and international education. Two-way goods and services trade with India was $30.3 billion in 2018-19, and the level of two-way investment was $30.7 billion in 2018. We have an ambitious agenda to expand our trade and economic relationship, as outlined in the India Economic Strategy (IES), which was released in July 2018 and endorsed by the Australian Government in November 2018. Over the next 20 years, a growing India will need many of Australia's goods and services – including in education, agriculture, energy, resources, tourism, healthcare, financial services, infrastructure, science and innovation, and sport. There's no single major market out to 2035 with more growth opportunities for Australian business than India.
Why United Arab Emirates (UAE)?
The UAE is Australia's largest trading partner in the Middle East and 18th largest overall, with two-way goods and services trade worth $9.8 billion in 2018-19. Australian goods and services exports to the UAE grew 22.2 per cent since the pervious financial year. Goods exports to the UAE were worth $3.5 billion in 2018-19 and were dominated by red meat and machinery and automotive parts. Australian goods imports from the UAE were worth $2.6 billion in 2018-19 (mainly petroleum products). Services trade is an increasingly important component of the commercial relationship, including construction, financial and professional services, tourism and education. Education is seen as an area of potential growth, with several Australian institutions active in the UAE market including Wollongong University, which in 1993 was the first private university to establish a campus in Dubai.
The briefings will cover:
ROK Webinar

Wednesday, 20 May 2020

India Webinar

Wednesday, 27 May 2020

UAE Webinar

Wednesday,3 June 2020

Welcome by Peter Mackey, Director International, NSW Trade and Investment

ROK market update by Rodney Commerford, Senior Trade & Investment CommissionerAustrade Korea

India market insights by Rohit Manchanda, Trade & Investment Commissioner – India

UAE/Middle East market insights by Moin Anwar, Trade & Investment Commissioner - Middle East

Support for NSW businesses in ROK by Yoojin Kim, Director - NSW Trade and Investment

How to connect NSW companies with Indian suppliers by Invest India

How to connect NSW companies with UAE suppliers by Dubai Exports

F&B trends by Najib Lawand, Founding Director, Export Connect

Moderated online Q & A session
Who should attend?
Emerging and existing exporters from NSW from all sectors.
How to register?
Cost: Free (places are limited) and registration is required. Please use the Eventbrite registration link above. You can register for one, two or three sessions.

When

ROK: Wednesday, 20 May 2020 from 03:00-04:00pm (AEDT).
India: Wednesday, 27 May 2020 from 03:00-04:00pm (AEDT).
UAE: Wednesday, 3 June 2020 from 03:00-04:00pm (AEDT).
Platform: Online briefing (Skype dial-in details will be sent prior to the event)
Further information: +61 438 404 827 tania.panagoda@treasury.nsw.gov.au