Scone Small Business Month - Finale Dinner w Lucy Bloom
Whether you're a professional or business owner, don't miss out on taking part in the Scone Chamber's incredible Small Business Month Finale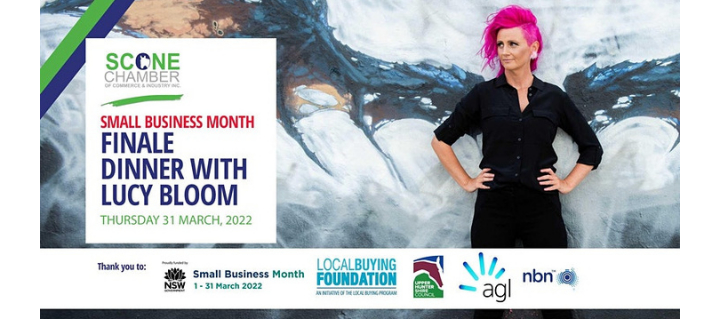 Finale Dinner WITH Lucy Bloom
Resilience Through Change
Thursday 31 March, 2022
Scone Race Club
6:00pm- 9:00pm
Join us for our Small Business Month Finale Dinner event where guests will enjoy a wonderful evening of great food, wine, networking and speakers, including the incredible, Lucy Bloom. Whether you're from the local area or elsewhere, this is going to be an incredible night for all.
How we respond to change is a matter of survival but is also an opportunity for enormous growth. Learn how to inspire optimism and create value in the face of adversity and change. Discover how to grow by overriding your brain's preference for well-worn pathways. Turn resilience into your superpower and change into your favourite state.
Keynote: Lucy Bloom
Other speakers: to be announced
Entertainment, Arrival Drinks, Canapes, Dinner and Dessert
About Lucy
A change maker, exceptional communicator and business fixer.
Lucy Bloom is an accomplished leader with 28years business building experience under a pink mohawk. She ran an advertising agency for 20 years before she became the CEO of two international aid charities: One in Ethiopia and another in Cambodia. Lucy is the founder of an education start-up and she's the author of two books including her memoir, Get the Girls Out. You will find Lucy challenging and entertaining in equal measure.
Lucy now consults as a strategy machine and governance gun for startups, NFPs and big business. You will find her challenging and entertaining in equal measure. She's is a rule-breaker, idea maker and momentum creator inspiring audiences with humour and captivating storytelling, with the business acumen to fortify an unforgettable message. Buckle up for a courageous ride.

Tickets
Individual $75
Table of 10 $600
(25% discount for Chamber Members, just email info@sconechamber.com.au for promo code)
For more information, sponsorships requests or to speak with someone contact Sarah English at the Scone Chamber on 0405373505 or email bdo@sconechamber.com.au