SMARTSessions: Lean Canvas Workshop
Forming part of the SRI's SMART Startup Program; The Lean Canvas allows you to capture your business model in a focused one-page document.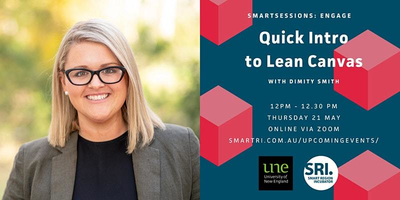 It's a fast, flexible way to communicate your business model, and a perfect way to explore the essential aspects of taking your awesome thought through to potential startup.
At the end of this 30 minute intro session, you'll have a basic knowledge of using this tool and you will be able to go through the full program online, at your own pace, through our website!
Once completed, you will walk away with a lean canvas for your business and the confidence to know you can take the next step.
Register to receive details for the Zoom login.