Dealing with Investors Part 2: Managing the Exit - with Alli Varnes
Alli Varnes, US-based Expert in Residence for 2020, will be joining the SRI in June for Part 2 of the 2-Part online workshop via Zoom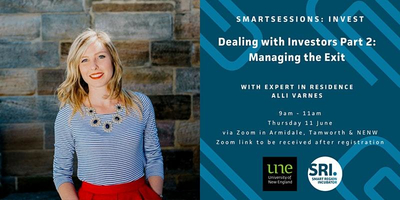 Part 2 of a 2-Part online workshop via Zoom focused on all you need to know about dealing with investors – at the exit end
Alli and her business partner Fiona Anson founded JobGetter just 9 years ago, which took a whole new direction to job seeking and recruitment – and specifically giving back to the startup community. Powering the largest connected network of job sites in Australia, JobGetter used machine learning and AI to give job seekers continual feedback on why they missed out on a job and helps them identify skill gaps so they can work on fixing them.
After the decision to move on from JobGetter in 2019, Alli has had the full experience of working from start to finish with investors and will share with us her advice on ensuring this is a beneficial and structured experience for founders of startups.
Both workshops are held via Zoom and Alli will also be offering 1:1 sessions for SRI startup founders seeking more personalised assistance and support for the investor process. For a session with Alli, please email Dimity at dimity.smith@une.edu.au.
Register now to confirm your attendance. Once registered, you will receive a link for Zoom.