Social Media Success Factors
Join this FREE webinar and learn how to use Social Media Marketing effectively to reach new customers, connect with them, and drive results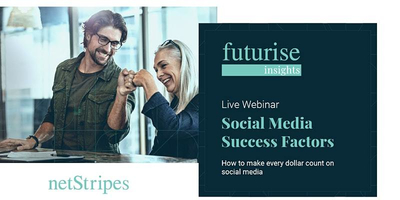 Social media is one of the most important marketing tools when it comes to reaching, engaging, and promoting your business to your target markets. Whether you're just about to start your first social media campaign or you've been working on your pages for years, there's always more you can learn to improve your content and strategy.
This webinar will take you through the tips and tricks of getting social media marketing right for your business.
Designed and conducted by Netstripes Founder and CEO, Dinesh De Silva, the webinar will focus on how you can improve and refine social media marketing for your business.
• Getting the fundamentals right
• Getting your message right
• Focusing on your ideal customer (the right audience)
• Key points to influence customer behaviour
• Understand the platforms
• Decide on a primary platform to focus on
• Social media best practices
• Decisions based on data and analytics, not opinion
• Tips to outsmart the algorithms
• Understanding algorithms
• Facebook – Instagram – LinkedIn
• Success Stories