Spark Festival 2022 - Startup 101: Raising Capital for Later Stage Companies
It is great news if your startup is hitting all its key growth milestones. It means your concept is proven, you are achieving your revenue targets and and you are due to hit positive net income. Next step: a later stage capital raise. So, what does this mean in practice?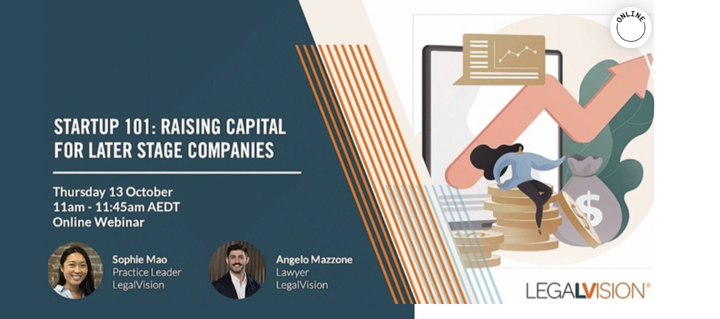 To assist you, LegalVision is hosting a free webinar, Startup 101: Raising Capital for Later Stage Companies in conjunction with the Spark Festival. Join them on Thursday 13 October at 11 am AEDT when Sophie Mao (Practice Leader) and Angelo Mazzone (Lawyer), discuss:
+ preparing for the later stage raise;
+ your options for the deal structure;
+ common deal terms; and
+ steps to take following the deal's completion.
Following the webinar, there will be a live Q&A. If you cannot make it, you can still register, and they will send you a copy of the recording.
About Sophie Mao
Sophie is a Practice Leader in LegalVision's Corporate Advisory, Business Structuring and Capital Raising teams. She has particular expertise in business structuring and corporate transactions. Sophie specialises in capital raising and advises startups and investors (including VCs) on raising capital via SAFEs, convertible notes, loans and straight equity.
About Angelo Mazzone
Angelo is a Lawyer in LegalVision's Corporate Transactions team. Angelo's primary focus is business structuring and the capital raising lifecycle. He is adept at facilitating capital raises via straight equity, SAFEs and convertible notes. Angelo also assists businesses in the implementation of business structures and employee equity plans.
Register for free today.