Startup Stories - James Sneddon
Hear the experiences of an entrepreneur and business owner – the highs, the lows, the wins, the mistakes, the whole story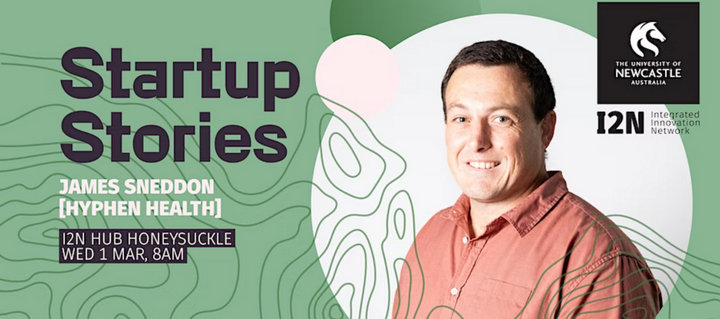 James Sneddon is cofounder of Hyphen Health, a company that is on a mission to breakdown the barriers and stigmas that stop people from accessing critical healthcare.
Hyphen Health is innovating new Australian healthcare solutions through their ground-breaking sexual health testing platforms, and leading the way in online healthcare. Not shy about sexual wellness or steroid harm minimisation, their trailblazing online services have received widespread media attention. Utilising secure, reliable platforms, they have helped over 17,000 people and counting, revolutionising the healthcare industry.
Join us for Startup Stories to discover what inspired James, an alumni of the University of Newcastle, former accountant and restaurateur, to become a healthcare innovator and medical tech entrepreneur passionate about leveraging technology to improve Australia's health.
Order of Proceedings
8:00AM - Doors open (Darks Coffee Roasters cart in operation)
8:15AM - Housekeeping and introduction
8:20AM - Overview from James
8:40AM - Participant submitted Q&A
8:50AM - Additional Q&A with audience
9:00AM - Event concludes
=================
What is I2N?
The University of Newcastle's Integrated Innovation Network (I2N) is responsible for driving economic diversity and business growth through innovation and entrepreneurship. At its network of innovation hubs, which are home to the Hunter region's most promising innovators and entrepreneurs, the I2N delivers a range of enterprise skill-building programs that develop ideas into sustainable, global businesses.
=================