Startup Stories - Jeremy Gupta of Loopit.co
Hear the experiences of an entrepreneur and business owner – the highs, the lows, the wins, the mistakes, the whole story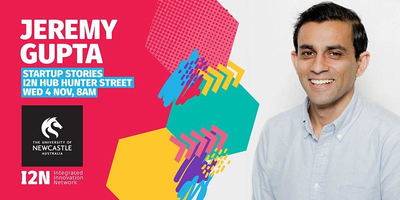 Recognised as an influential voice in the technology sector, Jeremy Gupta has enjoyed a rich career in numerous leadership roles across a range of industries. Since 2003, Jeremy has worked in the digital space as a member of a team, to leading and building out teams to over 250. He has a deep understanding of the full product life cycle, from pre-sales to ideation, product management, engineering, and support.
Jeremy was recently appointed CTO at Loopit.co, a SaaS platform that enables car dealerships to launch their own vehicle subscription service. His experience in digital transformation, and leading engineering teams has been instrumental in ramping up customer experience and growing the company's platform.
Upon his return to Newcastle, Jeremy quickly embedded himself in the region's startup ecosystem as a speaker and highly valued University of Newcastle VMS Mentor. Join us for Startup Stories and hear from this tech heavy weight as he shares his journey of using tech as a differentiator, not just an enabler.