Startup Stories - Lachy Gray (Yarno)
Join the i2N virtual hub for Startup Stories and hear from Australia's most innovative entrepreneurs.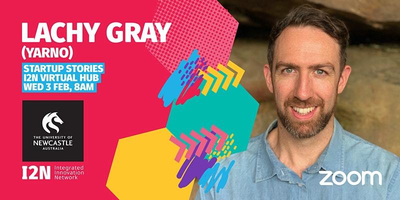 Lachy is Managing Director and co-founder of Yarno, an online learning platform that helps medium to large, regulated businesses with distributed teams, get staff on the same page faster.
Lachy and his team believe that being distributed shouldn't be a barrier to clear and consistent communication. Yarno work with leading brands such as Woolworths, TAL Insurance and Supercheap Auto, to communicate rapidly changing safety, sales and product information to distribution centre workers, call centre and retail staff.
Lachy is a lifelong learner, with a background in Psychology and Information Systems and an interest in decision making, mindfulness, self-managed teams and fully remote workplaces (Yarno being one of them!). Join us for Startup Stories and hear from Lachy how he and his team are producing meaningful results for distributed teams.
Order of Proceedings
8:00AM - Zoom webinar commences and guests log in
8:05AM - Housekeeping and introduction
8:10AM - Overview from Lachy Gray
8:20AM - Participant submitted Q&A
8:50AM - Additional Q&A with live audience
9:00AM - Event concludes