Startup Stories - Dominic May (CoastXP)
Startup Stories :: Hear the experiences of an entrepreneur and business owner – the highs, the lows, the wins, the mistakes, the inside story.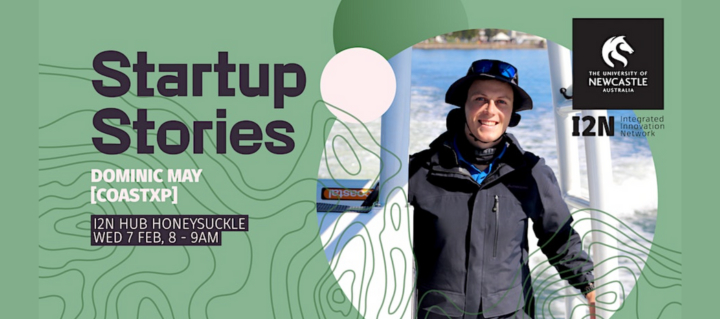 Dominic May, University of Newcastle Alumni, is the Founder of CoastXP (a nature-based adventure tourism company operating along the stunning Newcastle and Lake Macquarie coastline). Dominic and his team of experienced wildlife guides tour the coastline on a custom-built boat, offering coastal sightseeing, whale watching and guided bushwalking experiences.
Dominic and his team have received wide recognition for their experiences including being finalists at the NSW Tourism Awards, Trip Advisor's Travellers Choice Award Winners, Outstanding Visitor Experience Winners at the Lake Macquarie Business Excellence Awards and recently Dominic was recognised as Newcastle's 2023 Young Citizen of the Year.
Don't miss the chance to be inspired by Dominic at Startup Stories!

Order of Proceedings
8:00AM - Doors open (Darks Coffee Roasters cart in operation)
8:15AM - Housekeeping and introduction
8:20AM - Overview from Jordan and Kate
8:40AM - Participant submitted Q&A
8:50AM - Additional Q&A with audience
9:00AM - Event concludes
=================
What is I2N?
The University of Newcastle's Integrated Innovation Network (I2N) is responsible for driving economic diversity and business growth through innovation and entrepreneurship. At its network of innovation hubs, which are home to the Hunter region's most promising innovators and entrepreneurs, the I2N delivers a range of enterprise skill-building programs that develop ideas into sustainable, global businesses.