Startup Stories - Philip Ireland (Hone Carbon)
Hear the experiences of an entrepreneur and business owner – the highs, the lows, the wins, the mistakes, the whole story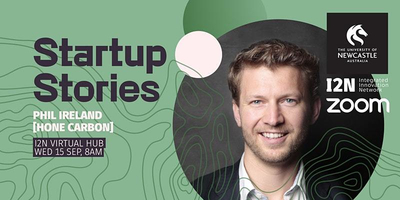 Phil has spent the last ten years leading teams and solving problems in policy, climate change, communications and research. He's now leading climate impact focused tech startup, Hone Carbon. Phil and his team are addressing the technical barrier to soil carbon sequestration projects by designing and deploying world-leading soil carbon measurement solutions.
Hone Carbon have attracted significant investment and are rapidly scaling their solutions to customers in Australia, and around the world, unlocking the potential for carbon storage in Australia's agricultural environments.
Join i2N for Startup Stories and hear how the Hone Carbon team are leveraging their bespoke sensor technology to enable carbon sequestration in the fight against climate change.
Order of Proceedings
8:00AM - Zoom webinar commences
8:05AM - Housekeeping and introduction
8:10AM - Overview from Philip Ireland
8:20AM - Participant submitted Q&A
8:50AM - Additional Q&A with live audience
9:00AM - Event concludes
=================
What is I2N?
The University of Newcastle's Integrated Innovation Network (I2N) is responsible for driving economic diversity and business growth through innovation and entrepreneurship. At its network of innovation hubs, which are home the Hunter region's most promising innovators and entrepreneurs, the I2N delivers a range of enterprise skill building programs that develop ideas into sustainable, global businesses.