STEM Defence + Innovation Program LIVE Cast
Please register to watch the LIVE streaming of this event.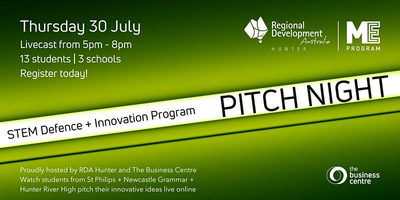 You're invited to join the live streaming of an extraordinary event.
13 outstanding high school students from 3 schools around Newcastle will pitch their inventions for the 2020 STEM Defence + Innovation Pitch Night.
The STEM Defence + Innovation program is a collaborative project between Regional Development Australia Hunter, the Department of Defence and the Business Centre. The schools involved in the project this year are Newcastle Grammar School, Hunter River High School and St Philip's Christian College Newcastle.
These 13 outstanding students have developed a range of innovative projects and for months have been have guided through experimentation and technology development by their STEM teachers.
The students receive funding through RDA Hunter's ME Program to support the development of their innovative solutions to commercialisation stage by the Business Centre's business advisors.
They are now ready to pitch!