STEM Stories: Navigating diverse career pathways
Pathways to STEM careers are as diverse as the women who follow them. The road to career success is sometimes thought to be linear and obvious, but when opportunities arise, circumstances change, or personal priorities shift: how do we decide the right path to follow?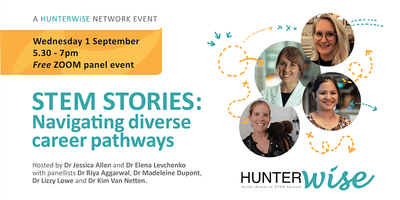 Please join HunterWise online for their Network Panel Event, STEM Stories: Navigating diverse career pathways. Dr Jessica Allen and Dr Elena Levchenko from the University of Newcastle will lead special guests Dr Riya Aggarwal, Dr Madeleine Dupont, Dr Lizzy Lowe and Dr Kim Van Netten in discussing the choices and circumstances that influenced their diverse paths to STEM careers.
Guests will have the opportunity to join the hosts and panellists in zoom breakout rooms to further explore different themes as we try to answer the question: how do you navigate your own personal path towards a fulfilling STEM career?
Wednesday 1 June, 5.30-7pm
Attendance via ZOOM
All welcome!
About the panellists
Riya is an applied mathematician and data scientist with academic experience in organising, interpreting, and visualising different data forms. She is currently working as a Digital Innovation Engineer at Veris, Brisbane, after recently completing her Doctorate degree in Mechanical Engineering from the University of Newcastle. She has 12 publications in a brief span of 3 years, with 3 focusing on solutions for COVID or any upcoming pandemic social distancing situations. Riya enjoys creatively finding solutions to problems and determining modifications for optimal use of organisational data and was recently awarded Global Talent status from the Australian government.
Madeleine completed her B.Sc(Chemistry) and PhD(Chemistry) at the University of Newcastle. After completing postdoctoral positions at Deakin University and RMIT University, she decided on a career change and now works as an Intelligence Analyst in the Security Group at NBN in Melbourne. As a result of her experience leaving academia, she recently co-founded Degrees of Freedom, a career consultancy service which aims to help those with advanced degrees to explore the many career options available to them, both within and outside of academia.
Lizzy is a senior Extension scientist at the independent research company Cesar Australia. Sustainable insect management and biodiversity conservation are the core focus of her research. After studying honeybees in Western Australia, Lizzy moved to Sydney to complete a PhD on spiders in cities. She has since worked as a researcher at The University of Hamburg, The University of Auckland and Macquarie University. Spiders and beneficial insects are her passion, and she likes nothing more than working with the public and explaining why everyone should love "bugs". You will often find her visiting schools, leading community education walks and talking on the radio about backyard insects.
Kim joined the Australian Public Service in 2018 through the Australian Science Policy Fellowship program. She was placed in the Department of Industry, Science, Energy and Resources and has spent the last three years working on energy and resources policy. She is now the Executive Officer to the Head of Strategic Policy in the department. Kim completed a Bachelor of Engineering (Chemical) with first class honors in 2010 and a PhD in coal and mineral processing in 2016, both at the University of Newcastle.
About your hosts
Jessica Allen has a multidisciplinary background spanning both chemical engineering and electrochemistry. After completing a PhD in chemistry at the University of Newcastle, she spent 2 years in industry with start-up technology company Pacific Pyrolysis before returning to Newcastle; first as a postdoc in the Applied Electrochemistry group before securing a contract position as an academic in Chemical Engineering. She continued her research as a principal researcher for the Priority Research Centre for Frontier Energy Technologies and Utilisation. In 2021 she was awarded a DECRA specialising in integration of carbon electrolysis for carbon capture and utilisation, and solar thermal manufacturing processes.
Elena Levchenko is a Senior Lecturer in Applied Mathematics, Head of Mathematics Discipline at the University of Newcastle, Australia. After getting undergraduate engineering (1999) and PhD (2003) degrees from Russia, she was appointed as a post-doctoral researcher at The National Center for Scientific Research (CNRS) in Grenoble, France. She was awarded the EU Marie Curie Research Fellowship (2004) and the University of Newcastle Research Fellowship (2007). Her research focuses on gaining mathematical insights into the relationship between structure and properties of materials, paving the way towards smart materials engineering at micro, nano and atomic scales.