Supercharge your longwall mine
Designed for ambitious leaders, this session aims to help you augment your current strategies.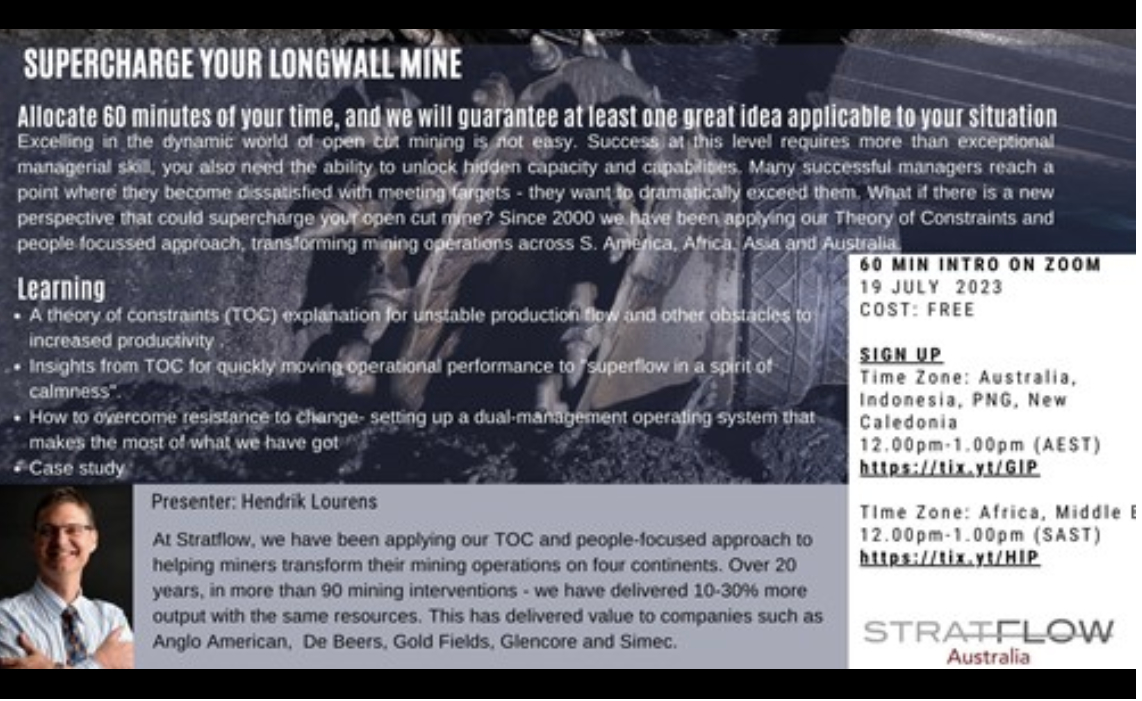 Excelling in the dynamic world of longwall mining is not easy. As a leader in the field you have overcome many obstacles and set ambitious targets. Success at this level requires more than overcoming adversity, you also have to unlock hidden capabilities and opportunities while maintaining a safe environment. Designed for exceptional leaders like yourself, this session aims to help you augment your current strategies.
What if there is a new perspective that could supercharge your longwall mine and improve safety? Since 2000 we have been applying our Theory of Constraints and people focussed approach , transforming mining operations across South America, Europe, Africa and Australia. In over 90 interventions we have propelled production increases of 10-30% (using the same resources). This helped miners such as Anglo American, Glencore, Gold Fields and De Beers.
Aspects Covered
Using Theory of Constraints to identify the root cause of these obstacles
Understand how this creates obstacles to success
How to address this Root Cause
The Flow Room concept and its ability to energise employee and create buy-in.
Case study
WHO WILL BENEFIT BY ATTENDING:

Mine Managers, General Managers, Operational leaders, Financial managers, Planning managers, Operational supervisors
Zoom login information will be sent within 24 hours. This will be contained in a calendar invite from info@stratflow.com.au.