Supercharge your open-cut mine
Designed for ambitious leaders, this session aims to help you augment your current strategies.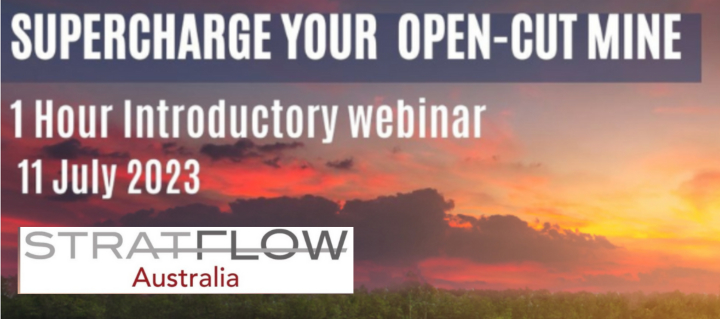 INTRODUCTION

Many successful managers reach a point where they become dissatisfied with just meeting targets - they want to dramatically exceed them and create an inspiring and enjoyable work environment. Success at this level requires more than excellent management skills; you also have to unlock hidden capabilities and capacity. Designed for ambitious leaders, this session aims to help you augment your current strategies.
What if a new perspective could supercharge your open-cut mine? Since 2000 Stratflow have been applying their Theory of Constraints and people-focused approach, transforming mining operations across South America, Europe, Africa and Australia.
This approach works because it guides employees and managers to collaborate in developing breakthrough solutions. It also clarifies the connection between activities and successful outcomes, increasing work satisfaction and the drive to cooperate.
In over 90 interventions, Stratflow have supported production increases in the range of 10-30% (using the same resources). This helped miners such as Anglo American, Glencore, Gold Fields, Simec and De Beers.
KEY TAKEAWAYS
In this session, you will learn the following:
A theory of constraints (TOC) explanation for unstable production flow and other obstacles to increased productivity.
How to quickly elevate operational performance to a state of "superflow" with the aid of TOC insights.
Practical strategies to overcome resistance to change by implementing a dual-management operating system that optimises available resources.
The intriguing concept of the Flow Room and its effectiveness in motivating employees and fostering a sense of ownership.
A case study that underscores the practical application of these concepts.
CLICK FOR MORE INFO
Open cut mine operational issues: Stratflow open-cut mine.
Stratflow website: www.stratflow.com.au
Linkedin: https://www.linkedin.com/in/hendriklourens/ , https://www.linkedin.com/company/stratflow/
WHO WILL BENEFIT BY ATTENDING:
Mine Managers, General Managers, Operational leaders, Financial managers, Planning managers, Operational supervisors
Zoom login information will be sent within 24 hours. This will be contained in a calendar invite from hendrik@stratflow.com.au.