Managing the Cyber Risks of a Remote Workforce
Austmine will be joined by cyber security experts Palo Alto Networks to help mining and METS companies navigate emerging digital threats in the new industry normal.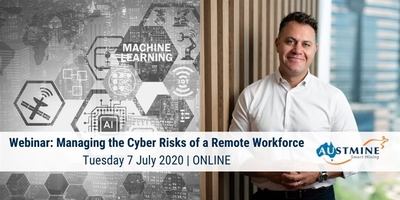 As organisations accelerate their capabilities and infrastructure to support an increase in remote workers, they will continue to see an exponential growth in cyber threats. In the mining industry, these threats are elevated by operational equipment, complex digital infrastructure and large, remote workforces.
Sean Duca, Vice President and Regional Chief Security Officer, Asia Pacific & Japan, Palo Alto Networks will explain how leaders can architect an effective remote workforce security plan while ensuring business continuity through the current crisis and beyond.
The discussion will explore:
Perspectives on how organisations are securing their remote workers
Strategies to ensure your company is adequately prepared to address ongoing cyber security risks
Cyber security considerations as we look ahead to reopening the economy
Expert Speaker
Sean Duca
Vice President and Regional Chief Security Officer, Asia Pacific & Japan
Palo Alto Networks
Sean is vice president and regional chief security officer for Asia Pacific and Japan at Palo Alto Networks. In this role, Sean spearheads the development of thought leadership, threat intelligence and security best practices for the cyber security community and business executives.
With more than 20 years of experience in the IT and security industry, he acts as a trusted advisor to organisations across the region and helping them improve their security postures and align security strategically with business initiatives.

Webinar Details
Tuesday 7 July 2020
12.30 - 1.15pm AEST / 10.30 - 11.15am AWST
Please contact membership@austmine.com.au if you need assistance.