Getting the Most out of New Technology for Manufacturing and Mining
In the last few years, manufacturers and miners have placed a renewed focus on digitisation and automation.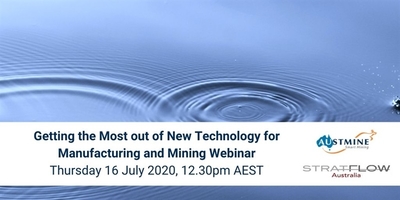 Many believe that new technology will be the silver bullet to solve safety, productivity and profitability problems. And yet many initiatives deliver a limited return on investment, and more often than we would like to admit, the impact is negative.
In this webinar, we will identify why new technology does not always deliver the results we expect. We will use the implementation of ERP systems in the 1990s as a case study and use a powerful checklist to see what the new technology can deliver and what changes we have to make to our current operating rules and management style to reap the benefits. We will identify how managers can deal with the overload of information that follows many digitisation efforts. How do we prioritise this information and make sense of it? We also need a program to introduce new technology.
We will answer these key questions:
How do we take the company personnel (especially time poor managers), who will help with implementation and who will be using the information, along with on the journey?
If we cannot demonstrate the value of the initiative within a few months, the momentum and support of already loaded managers and employees will peter out.
This has implications for the sequence in which we digitise and how we involve our employees. What happens when the implementation ends and the implementors leave?
The webinar will conclude with an outline of how to deal effectively with the issues raised.
Speaker Information
Hendrik Lourens is a Sydney based management consultant who has worked with Aurizon, Qantas, John Holland, CPB, Downer & Anglo American. He helps his clients to achieve breakthrough performance by clarifying the inherent simplicity in complicated and pressured environments and focussing their effort on the few critical leverage points that affect their system.
Webinar Details

Date: Thursday 16 July 2020
Time: 12.30 - 1.15pm AEST / 10.30 - 11.15am AWST

Contact nicole.colomb@austmine.com.au if you need assistance with registration.