The Future of Autonomous Operations in Mining
Austmine is pleased to be joined by Industry Leader Accenture to explore their latest mining and resources sector report - Mined Over Matter: The Not-Too-Distant Future of Autonomous Operations.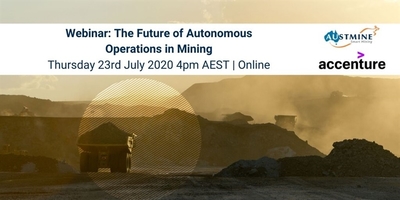 Autonomous operations in mining have the potential to significantly improve efficiency and productivity, while increasing safety and sustainability.
Today, a number of companies have fleets of autonomous trucks, trains and loaders at mine sites, or are piloting the use of these vehicles. These efforts are a great leap forward from traditional practices, but they are just scratching the surface of how autonomous systems can be used in mining. In Accenture's view, autonomous mine operations can and will go much further.
In this webinar, Accenture will explain:
The business case and driving forces of automation in the mining industry
A broader view of autonomous operations and the opportunities that can be explored in the future
Preparing a vision and roadmap for autonomous evolution and embedding the building blocks to success
Taking autonomy to the next level – what are the keys to success?
Thursday 23 July 2020
4.00 - 4.45pm AEST / 2.00 - 2.45pm AWST

Please contact membership@austmine.com.au if you need assistance.