Sydney Mining Club - Leading Edge Series
Leading Edge Series - Cocktails and Canapes with young and upcoming mining companies.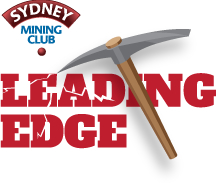 Australia, Getting its Exploration Mojo Back…plus other Stories from around New South Wales.
The Sydney Mining Club meets in the ballroom at the Establishment Hotel on George Street. Leading Edge events are a more informal event with drinks and canapes.