Tailings Fundamentals: Responsibility and Accountability
Develop a fundamental understanding of tailings management from the perspective of mining executives and board directors.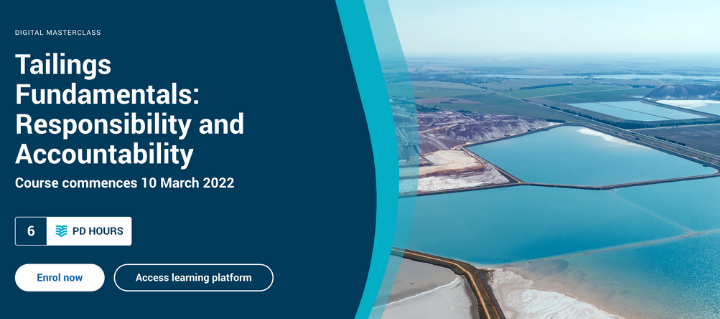 Safe and effective management of tailings facilities continue to be a major focus of Boards, investors and the wider community. The AusIMM digital masterclass is an essential learning experience for mining executives and board directors to better understand tailings management from a risk and governance perspective. Delivered over two 90-minute interactive webinars over two weeks, the course will allow participants to ask questions and learn from peers, ensuring content is tailored to current scenarios and industry needs.
Who should attend?
Asset-level front-line leaders
Suitable for Board directors, senior and accountable executives to understand GISTM compliance, reporting requirements and impacts on operations and closure of tailings facilities.
Corporate and investment-related professionals
Understand context behind provision of financial and human resources to enable GISTM compliance and the review and auditing of tailings facilities.
Senior tailings facility managers, including operators and engineers
Understand key governance and operational considerations to comply with GISTM requirements.