The Canadian Lithium Exploration Opportunity: Investor Showcase Event
An exclusive special investor information event with ASX listed companies: BM8, CRR and EQN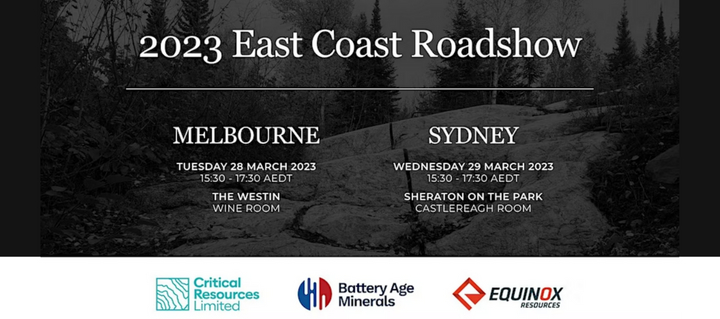 Battery Age Minerals (ASX:BM8), Critical Resources (ASX:CRR) and Equinox Resources (ASX:EQN) are pleased to be hosting an exclusive special investor information event in Sydney - to discuss the investment opportunity in Lithium.
Hosted in Castlereagh Room, at Sheraton Grand Hotel, Sydney, the event will provide investors with key updates on all three companies as well as details on future developments.
The event will include a presentation from Alex Cheeseman, Managing Director of Critical Resources, Gerard O'Donovan, CEO of Battery Age Minerals and Gower He, CEO of Equinox Resources.
Spaces are limited, and therefore tickets need to be booked in advance of the event.