The Capability Papers: Manufacturing & Energy Transition
How can Australia lead the way in global transition to renewable energy? Find out at a special InnovationAus one-day forum in Sydney.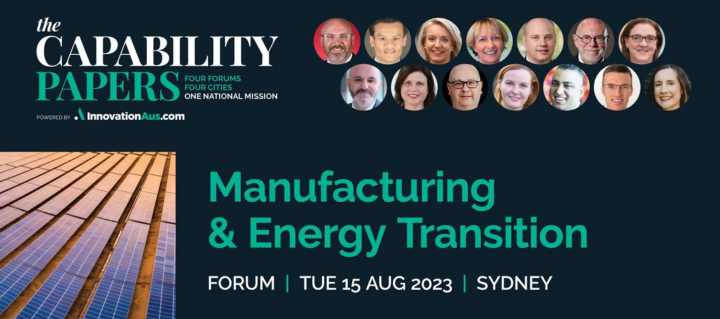 This is a critical moment for Australia, as it directs investment into future energy transitions and emerging renewable technologies.

The recent Federal Budget announcements articulated the government's central focus – to back an industrial transformation and extract the maximum value for the opportunities presented by the global transition to renewable energy.

The Albanese Government's support includes a new $2 billion Hydrogen Headstart initiative and Industry Growth Program as part of a joined-up system that connects startups and research commercialisation to the $15 billion National Reconstruction Fund. The time is now to match strategy with opportunity.
SPEAKERS

The Hon Tim Ayres, Senator for NSW; Assistant Minister for Trade; Assistant Minister for Manufacturing
The Hon Anoulack Chanthivong MP, NSW Minister for Industry and Trade, Minister for Innovation, Science and Technology
The Hon Bridget McKenzie, Senator for VIC; Shadow Minister for Infrastructure, Transport and Regional Development; Leader of the Nationals in the Senate
Lisa Emerson, NSW Modern Manufacturing Commissioner
Adrian Beer, CEO, METS Ignited
Professor Roy Green, Special Innovation Advisor at the University of Technology Sydney and Chair of Port of Newcastle

Professor Renate Egan, Executive Director, Australian Centre for Advanced Photovoltaics
Marcus Zipper, Director Manufacturing Business Unit, CSIRO
Natalie Chapman, CEO, Gemaker
Wayne Hoffman, CEO, Entech Electronics
Jekaterina (Jeka) Viktorova, CEO and Co-Founder, Syenta
Jehan Kanga, CEO and founder, Rux Energy
Paul Barrett, CEO, Hysata
Kara Frederick, Managing Partner and Founder, Jekara Group