The IEA's Net Zero Roadmap - unpacking the plan, and what it means for Australia with IEA's Tim Goodson
Earlier this year the International Energy Agency (IEA) released Net Zero by 2050 – A Roadmap for the Global Energy Sector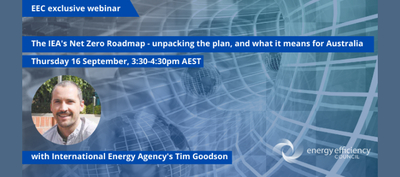 Net Zero by 2050 – A Roadmap for the Global Energy Sector is a comprehensive study of the practical actions necessary to transition to a net zero energy system by 2050 while ensuring stable and affordable energy services and robust economic growth.

The IEA's Roadmap is both grounded and ambitious. It highlights just how much can be achieved with currently available technologies – especially energy efficiency, fuel switching and renewables – and how crucial it is we get on the front foot and make the 2020s the decade of action.

With the Glasgow climate summit fast approaching and governments around the country working on credible pathways to net zero, the EEC will be catching up with the IEA's Tim Goodson to unpack the report and what it means for us in Australia.

Tim is an Energy Analyst at IEA and part of the team that produces IEA's annual flagship publication, the World Energy Outlook. Tim's models future energy demand under different policy scenarios and then translate the results into a detailed analysis of global energy trends and key messages for policymakers.