The potential value of biohubs to help deploy and grow sustainable biomass supply
Join the webinar to understand how biohubs can provide improvements to biomass supply chains that will provide a more cost effective, reliable and sustainable supply of biomass for the bioenergy sector in Australia.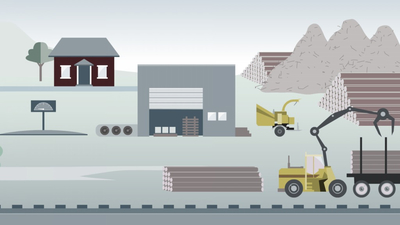 The IEA Bioenergy Technology Collaboration Programme, through its task on biomass supply, is exploring what role biohubs can play in enhancing the deployment and growth of sustainable biomass supply. As points in the supply chain to consolidate different sources of biomass and allow greater pre-processing of the biomass, biohubs have the potential to improve sustainability, resilience and quality of biomass supply for bioenergy.
Working with local stakeholders groups in Europe and North America, the Task on biomass supply have conducted two workshops exploring the strengths, weaknesses, opportunities and threats (SWOT) of biohubs in biomass supply chains. The workshops used a consensus-based group engagement process with the experts in the room to identify and develop the SWOT for biohubs in the supply chain. The resulting SWOT outcomes are being used as the framework to review different cases of biohubs being deployed in practice in different countries and supply chains with the aim of publishing a best practice report for biohubs in biomass supply chains to maximise the strengths and opportunities while effectively managing the weaknesses and threats.
The webinar will provide a brief overview of the biohubs work in the IEA Bioenergy Technology Collaboration Task on biomass supply and provide a more detailed overview of the SWOT outcomes from each of the two workshops.

Everyone is welcome to join the webinar, in particular existing biomass supply chain owners/managers, new project investors seeking to secure viable supply options, land and resource managers seeking access to new biomass/bioenergy markets, companies that are looking for green alternatives or want to reduce their company carbon footprint.

Agenda:
2.00 - 2.05 pm: Welcome
2.05 - 2.10 pm: IEA Bioenergy Technology Collaboration Task on Biomass Supply overview (Mark Brown)
2.10 - 2.20 pm: An overview of Biohubs in biomass supply chains and the related task project (Mark Brown)
2.20 – 2.30 pm: The results of the Biohubs SWOT development workshop, Europe (Biljana Kulisic)
2.30 – 2.40 pm: The results of the Biohubs SWOT development workshop, Canada (Bruno Gagnon)
2.40 – 2.45 pm: Similarities/differences between the two workshops and planned way forward
2.45 - 3.00 pm: Q & A