Transitioning to a lower carbon future
The Woodside Monash Energy Partnership and National Energy Resources Australia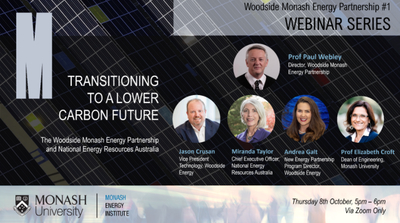 Join the first of a four-part Webinar series on the Woodside Monash Energy Partnership.
The first webinar will be joined by panel members Jason Crusan (Vice President Technology at Woodside Energy), Miranda Taylor (Chief Executive Officer at National Energy Resources Australia (NERA), Andrea Galt (New Energy Partnership Program Director at Woodside Energy) and Professor Elizabeth Croft (Dean of the Faculty of Engineering at Monash University) to discuss the need to transition the energy sector at scale. Jason will discuss Woodside's ambition to become a pioneer in the bulk delivery of lower carbon energy, Miranda will discuss NERA's role in ensuring Australia maximises its energy resources advantages, Andrea will share the research and development initiatives of the Woodside Monash Energy Partnership and Elizabeth will give insight into how Monash University's core research strengths will support this energy transition.

Professor Paul Webley (Director, Woodside Monash Energy Partnership), will host the event.