Understanding Grants for Innovation
This is a session about various government grants and incentives that are available to those who are on their 'Innovation Journey'.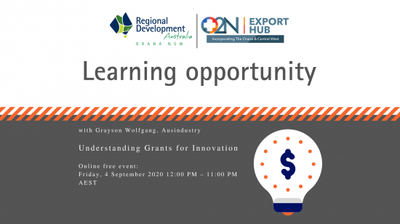 It gives a quick introduction of programs to help you decide if they might apply to you – and whether you might be eligible for them. Programs are relevant for those that are doing 'R&D' or needing to connect with research to prototype, test and validate their product; or thinking of commercialising a new/novel product; seeking investment; or looking to go global.
Register in advance for this webinar by clicking the link below:
https://us02web.zoom.us/webinar/register/WN_2HkdlSkZQ8qxs-82TmLH-g