Unpacking the EU's Carbon Border Adjustment Mechanism for Australia with Tennant Reed
Join EEC and the report's author, AiGroup's Tennant Reed, to unpack the EU's Carbon Border Adjustment Mechanism (CABM), and the implications this and future CBAMs have on the Australian economy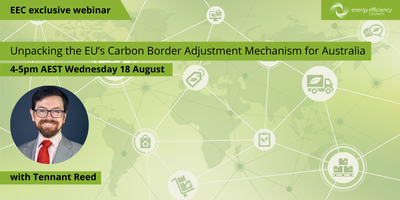 On Tuesday the AiGroup will publish their latest report, Swings and Roundabouts - the unexpected effects of Carbon Border Adjustments on Australia.

The European Green Deal sets out a clear path towards realising the EU's ambitious target of a 55 per cent reduction in carbon emissions by 2030, and to become a climate-neutral continent by 2050. A key component of the policy package developed to achieve these efforts is the CBAM, which is designed to help reduce the risk of 'carbon leakage' by encouraging producers in non-EU countries to green their production processes.

Because of the EU action, CBAM's have become a hotly discussed topic in Australia as we struggle to understand the implications these will have on our economy, as well as the implications if Australia were to implement a similar scheme.