Virtual Lunch & Learn - Amplify Your Awareness with Sarah Kenyon
Back by popular demand - this session is designed to help entrepreneurs amplify their awareness to gain traction in their business.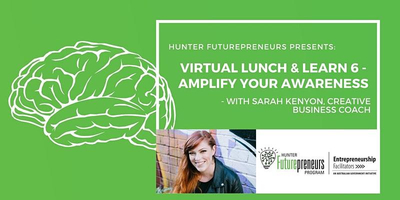 Do you wish that you could amplify your awareness?
As a start-up it's crucial to understand that if no-one is knocking, then you need to start knocking yourself.
Unfortunately, it's not enough to be passionate, it's not enough to be great at what you do, yes, you've got the skills but if nobody knows about you, you're yelling into a void.
Stop waiting around for customers to find you, get yourself out there and amplify your awareness.
About the Session
Hunter Futurepreneurs is proud to present Creative Business Coach, Sarah Kenyon, who will be presenting this virtual Lunch & Learn Session that has been designed to help start-ups and entrepreneurs amplify their awareness to gain traction in their business.
If you have been asking yourself the following questions lately
Where do I find customers?
How can I get in front of my ideal audience?
How can I pitch myself? What do I even pitch? And where?
Then this is the virtual session for you!
Have your lunch, pens/ notebook/ devices ready to go for this jam-packed virtual Lunch & Learn hour with Creative Business Coach, Sarah Kenyon.
About the Presenter
Sarah Kenyon, Creative Business Coach
Sarah Kenyon, Creative Business Coach, is obsessed with personal development, business strategy and building skills needed to thrive, the kind of skills that are not taught in school but are so highly valuable for growth, success and achieving your goals. She wants to create an impact and to see major shifts in those that she has coached, to go from overwhelmed to excited once again and ready to charge forward.
Sarah is committed to assisting creative entrepreneurs with developing epic strategies so they can make an impact and scale profitably.
You can find Sarah on Instagram, Facebook and LinkedIn @sarahkcoaching
Or head to her website www.sarahkenyon.com.au
About the Host
Cheryl Royle, Hunter Region Entrepreneurship Facilitator and Founder of Hunter Futurepreneurs Program
Your very own local Entrepreneurship Facilitator, Cheryl Royle, who is a Hunter based small business coach and consultant will be hosting the session. She has educated, supported and coached 1000's of business owners, freelancers, consultants, artists and entrepreneurs across Australia. Cheryl offers practical start-up and business growth advice and is committed to guiding and supporting entrepreneurs, startups and small business owners in creating the business of their dreams.
About Hunter Futurepreneurs Program
Business mentoring and advice for startups and existing businesses.
Hunter Futurepreneurs is an Australian Government initiative delivering mentoring and training programs to equip you with the skills and confidence to run your own business. Our Entrepreneurship Facilitator will provide practical assistance and support you through the business startup and growth process. This service is available to Hunter, Newcastle, Port Stephens and Lake Macquarie residents and business owners. Phone call and Skype services are available to those outside the above specified area.
Services are fully funded by the Australian Government through its Entrepreneurship Facilitators Program. For more information please contact: Cheryl Royle on 0407 991 277.
https://www.hunterfuturepreneurs.com.au/