What does "Net Zero" mean for Australian small-medium businesses?
Understand what Net Zero means for your business and how you can grab the opportunities of decarbonisation and net zero supply chains.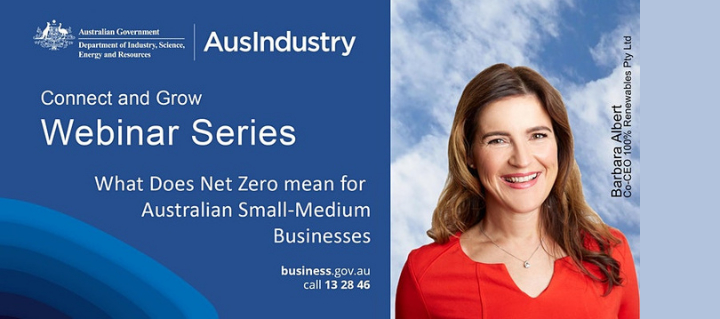 The webinar followed by Q&A will be presented by Barbara Albert (Co-CEO, 100% Renewables) and moderated by Kate Brooks (Entrepreneurs' Programme with AiGroup). It will help businesses.
Understand the "carbon jargon";
Know your business Scope 1, 2 and 3 emissions;
Calculate your carbon footprint;
Identify de-carbonisation solutions;
Navigate the carbon offset schemes.
About the Speakers:
Barbara Albert is the Co-CEO of 100% Renewables, a consultancy specialised in developing net-zero pathways. Barbara is a speaker, podcast host of 'Driving Net Profit with Zero Emissions' and award-winning author of the book 'Energy Unlimited'. She is passionate about business and sustainability and believes that reaching net-zero emissions is achievable and profitable when done right. Barbara holds a master's degree in commerce from the University for Business Administration and Economics in Vienna and studied at New York University's Stern School of Business.
See: https://100percentrenewables.com.au/podcast/
Kate Brooks is a Growth Facilitator for the Federal Government's Entrepreneurs' Programme, delivered in partnership with Australian Industry Group. She works with small-medium businesses to help them identify growth opportunities. Kate loves connecting interesting people to start conversations that generate new ideas.
This webinar is one of a series that leads the Business Decarbonisation Pathways – Working toward Net Zero SMART Supply Chain project delivered by the Entrepreneurs' Programme and launching in Perth on 21 September 2021.See: https://business.gov.au/grants-and-programs/entrepreneurs-programme
Delivery Format:
This will be a Live & Interactive Webinar delivered via Webex, for more information on Webex go to www.webex.com.
Further information:
For more information on this webinar please contact Kate Brooks at kate.brooks@ep.industry.gov.au
Please note, this is a free Interactive Online Format series hosted by the Department of Industry, Science, Energy and Resources Entrepreneurs' Programme and Ai Group.
The Entrepreneurs' Programme provides quality advice and support to assist businesses to innovate and grow. For further information on what services may be available to you, visit: business.gov.au/EP