Why ESG initiatives are falling short - and what communicators can do
Join IABC NSW as they partner with SEC Newgate; Australia's largest full service strategic communications firm to explore the topic of ESG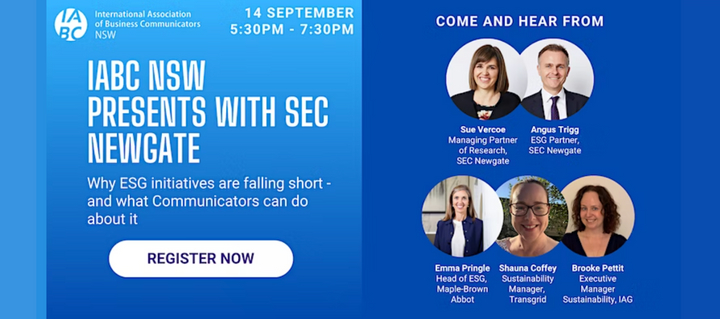 Environmental, Social and Governance (ESG) is one of, if not, the most important matters of our time that organisations are grappling with. IABC NSW is delighted to partner with SEC Newgate, Australia's largest full service strategic communications firm, and a panel of experts for their next event "Why ESG initiatives are falling short - and what Communicators can do about it."
All organisations are expected to care about the impact they have on the world, and comprehensive ESG practices have become a license to operate. However, according to the latest research from SEC Newgate, the value of what's being delivered is falling short of expectations, despite substantial investment. In fact, 91% of Australians either don't trust what companies claim about their ESG performance or are unsure.
At this thought provoking event you'll hear the latest insights from SEC Newgate's Managing Partner of Research, Sue Vercoe, as well as ESG Partner Angus Trigg who will facilitate an expert panel of speakers:
Emma Pringle, Head of ESG Maple-Brown Abbot
Shauna Coffey, Sustainability Manager, Transgrid
Brooke Pettit, Executive Manager Sustainability, IAG.
The panel will discuss the opportunities and challenges they face in this crucial area and what Communicators can do to help bridge the gap, building trust with their stakeholders.
This event is a "must attend" for Communicators looking to deepen their knowledge in this rapidly growing space and add value to their organisation.
Join in on Wednesday 14 September for an evening of stimulating discussion and actionable insights. In person attendance includes networking, drinks and light catering in a central city location. A live stream option is also available.
Timing
Please note the event will start at 5:30pm with light refreshments and networking with the panel conversation kicking off at 6:15pm. The event will wrap up at 7:30pm.