Women in Manufacturing Summit 2023
The Women in Manufacturing Summit 2023 is your chance to hear from inspirational & industry-leading women working at the forefront of the industry.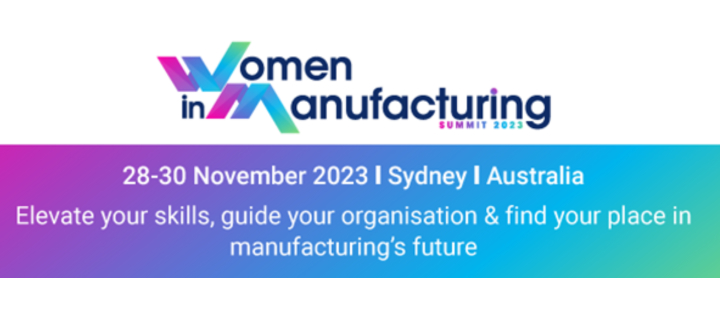 Gain firsthand insights into game-changing new innovations & what they mean for your organisation and your career. Develop strategies to grow your leadership skills so you can cultivate and mentor resilient future leaders in your organisation. Find solutions to some of the key challenges facing women in the industry, including discrimination, harassment, safety, and mental health & wellbeing.
This unique, one-of-a-kind program is tailormade for women in manufacturing who want to bolster their knowledge, hone their skills, advance their careers, and guide their organisation into the future.
Speakers include:
Rebecca Ransford, Head of Global Operations & Supply Chain, SunRice
Jens Goennemann, Managing Director, Australian Manufacturing Growth Centre
Mohana Ghate, People & Culture Business Partner, Diageo
Professor Veena Sahajwalla, Founding Director, UNSW Centre for Sustainable Materials Research and Technology
Belinda Layson, Beverage Operations Manager ANZ, PepsiCo
Kerryn Caulfield, Executive Director, Composites Australia
Julie Jones, General Counsel and Joint Company Secretary, Gold Road Resources
Fiona MacLeod, General Manager Strategic Retail, Visy Retail Services
Jacqui Walters, National Rail Manufacturing Advocate, Department of Industry, Science and Resources
Kariza Martin, Manufacturing and Process Engineer, Boeing
Vanessa Skipworth, General Manager, Tasmanian Minerals, Manufacturing & Energy Council
Stephanie El Akkaoui, Manufacturing & Processing Leader, Bega Cheese
Kristi Riordan, Co-Founder, Harvest B
Jens Goennemann, Managing Director, Australian Manufacturing Growth Centre
Dr Yanling Lu, Head of CMC (Chemistry, Manufacturing and Controls), GlyTherix