World Energy Storage Day Global Virtual Conference & Expo
Join WESD Global Conference & Expo to celebrate World Energy Storage Day to recognize advances in energy storage & EV tech & deployment.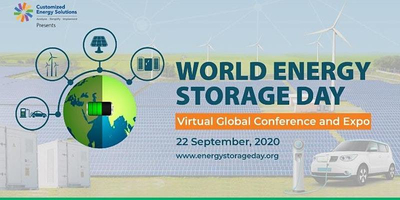 In 2017, Global Energy Storage Alliance started celebrating 22nd September (equinox) as World Energy Storage Day to symbolize the role energy storage technologies can play in balancing the grid and transportation sector. This year, 20+ global organizations have come together to celebrate "World Energy Storage Day (22nd September)" with a Global Virtual Conference (www.energystorageday.org).
This event is organized with a goal of fostering global collaborations and is free to attend. We are anticipating WESD event to be attended by over 10,000 delegates from around the globe. We have already received registrations from over 45 countries.
Delegates can choose a complimentary registration for free access to live streaming of over 18 hours of content with 75 + global thought leaders throughout the day. They can also choose the premium registration for $49/- to gain access to recorded sessions and presentations from the event.
The event is supported by following global organizations:
1. Alliance for Rural Electrification(ARE)
2. Australian Energy Storage Alliance (AESA)
3. Australia Trade & Invest, Government of Australia
4. BVES, German Association Energy Storage Systems (BVES)
5. California Energy Storage Alliance (CESA)
6. China Energy Storage Alliance (CNESA)
7. Clean Energy States Alliance, USA
8. Department of Science and Technology (GOI)
9. DII Desert Energy Alliance (DII)
10. Energy Storage Association, USA (ESA)
11. European Alliance for Storage of Energy (EASE)
12. European Battery Alliance (EBA250)
13. Green Hydrogen Coalition (GHC)
14. India Energy Storage Alliance (IESA)
15. Indo German Energy Forum (IGEF)
16. Innovation Norway
17. International Solar Alliance (ISA)
18. Irish Energy Storage Alliance (IESA)
19. NITI Aayog, Government of India
20. South Africa Energy Storage Association (SAESA)
21. The World Bank – ESMAP